Right now, people are feeling disengaged from their organizations and from each other. The challenges of isolation and burnout are taking a toll on workplace culture. But don't worry; there's a solution. Everything DiSC® is offering a new way to engage your people and help them build better relationships with their colleagues—even as we work remotely.
Everything DiSC Workplace® on Catalyst™ takes the best-selling Everything DiSC Workplace® experience to the next level. Designed to engage everyone in building more effective relationships at work, Workplace on Catalyst helps people adapt to others in real-time, unlocking engagement and inspiring more effective collaboration. By combining the Everything DiSC® assessment, Catalyst platform, and instructor-led facilitation, participants will:
Discover their DiSC® style
Deepen understanding of self and others
Learn how to build better relationships with others
Access real-time tips for more effective interactions with their colleagues
Build the foundation for future social and emotional skills training
Everything DiSC® on Catalyst™ is a personal development learning experience that equips people with the social and emotional know-how for more effective interactions at work—no matter who or where they are.
The result is lasting impact. When learners use Everything DiSC on Catalyst, the hard work of long-lasting behavior change is possible…even fun. When organizations use Everything DiSC on Catalyst, they foster a more engaged, collaborative, and adaptive culture that drives results.
Program Components:
By connecting the Everything DiSC assessment, Catalyst platform, and instructor-led facilitation, Everything DiSC Workplace on Catalyst delivers transformational learning that has an immediate and lasting impact on an organization's performance and culture. The components of the learning experience include:
Catalyst is a Personalized, On-Demand Learning Experience Platform
Delivers the narrative-style results of the Everything DiSC assessment
Allows learners to go deeper into their DiSC® style and develop new skills
Offers real-time tips for more effective interactions with a learner's colleagues
Enhances the facilitation and independent learning as a single access point throughout the learner's DiSC journey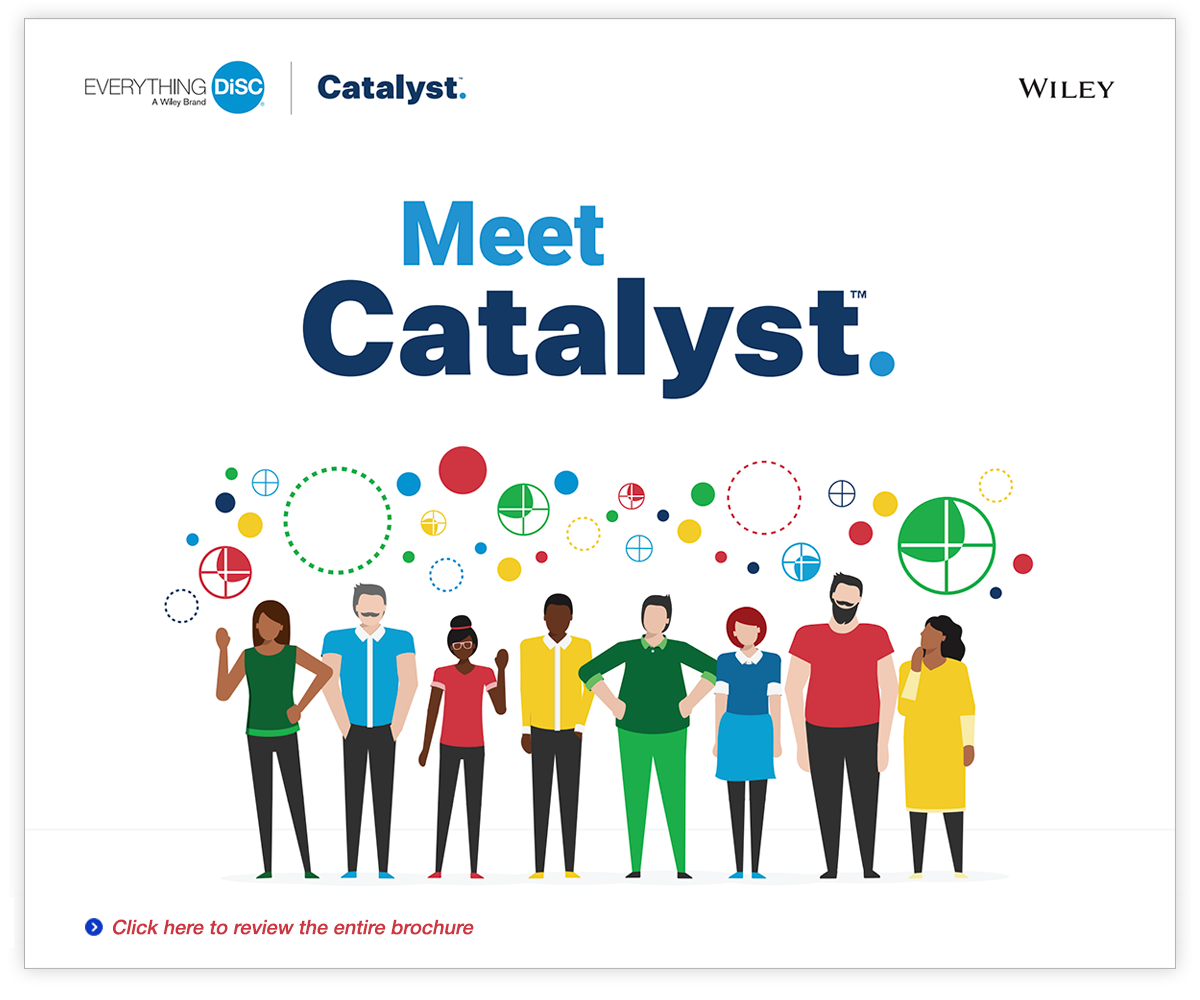 The Everything DiSC Profile:
Powered and proven by 40+ years of research
Uses computer adaptive testing and sophisticated algorithms for precise results
Builds the foundation for an ongoing personalized learning experience
Your DiSC Profile Report:
A 23-page PDF report available for download on the Catalyst platform or EPIC
Houses a learner's DiSC style, insights into self and others, and actionable strategies for building better relationships
Modular design to coincide with the short-format, interchangeable topics within the guided facilitation
Many Additional Reports Available:
A new Your Groups report is especially exciting and informative. Watch this video!
Workplace on Catalyst Guided Facilitation:
Instructor-led experience that engages and educates
Virtual training modules using scripted content, contemporary video, and activities
Short-format, modular design that is easily tailored to any group size or time constraint
The Everything DiSC on Catalyst Facilitation Kit offers facilitators a new dimension of support. It uses a short-format, modular design and includes virtual and in-person facilitation options to ensure facilitators can create a customized experience that meets the unique needs of any client.