If you and your organization are wondering..."How can listening create a barrier, rather than a bridge, to communication?"
Good communication is one of the most valued skills in the workplace. And effective listening is basic to communicating productively inside the organization and meeting the competitive challenges outside. The Personal Listening Profile® helps people become active, purposeful listeners in a wide variety of situations for more productive communication.
Discover the Impact of Five Listening Approaches
It is estimated that people screen out or change the intended purpose of what they hear in over 70% of all communications! The biggest factor contributing to such miscommunication is our listening approach. Behavioral research shows that people listen with a preferred listening approach. The Personal Listening Profile® research describes five listening approaches:
Appreciative: listens in a relaxed manner, seeking enjoyment, entertainment or inspiration.
Empathic: listens without judging, is supportive of speaker and learns from the experiences of others.
Comprehensive: listens to organize and make sense of information by understanding relationships among ideas.
Discerning: listens to get complete information, understand main message and determine important details.
Evaluative: listens in order to make a decision based on information provided and may accept or reject message based on personal beliefs.
Match Listening Approaches to Communication Needs
The Personal Listening Profile® helps people in your organization:
Discover their natural approach to listening.
Capitalize on their listening strengths.
Learn how listening approaches impact listening effectiveness.
Improve their ability to understand the purpose of different communications.
Use listening approaches appropriate to the communication.
Overcome listening barriers and reduce conflict.
Enhance individual and team performance
Personal Listening Profile® Facilitator's Kit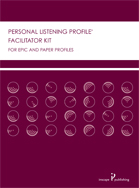 Everything you need to administer the Personal Listening Profile® is contained in the comprehensive Facilitator's Kit. Designed to provide human resource professionals with practical, research-based expertise, the kit helps you deliver Inscape Publishing's unique Discover & Capitalize approach to workplace learning:
Provide a self-directed scoring and interpreting process that actively engages the learner
In the context of personal experience.
Simplify complex issues to increase understanding.
Create a non-judgmental language for identifying and dealing with stress.
Develop new listening skills.
Value the listening approaches of others.
Foster self-awareness and behavioral insights for long-term performance results.
Facilitator's Kit includes:
One Facilitator's Manual
Fully scripted seminar
Transparency masters and reproducible handouts (bound and unbound)
Research and technical background
Two Personal Listening Profile®.
Personal Listening Profile® is a registered trademark of Wiley.