For enhanced learning, the newer Everything DiSC Workplace is the program to use instead of DiSC Classic. Please click here for more information.
If you and your organization are wondering..."Why we get along so well with some people but can't work with others, no matter how hard we try?"
The foundation of personal and professional success lies in understanding self, understanding others and realizing the impact of personal behavior on the people around you. For more than twenty years, the Personal Profile System® has unlocked the door to productive communication and relationships for over 20 million people, worldwide, through its DiSC® Dimensions of Behavior learning approach.
Setting the Standard for DiSC® Learning
DiSC Classic® provides a non-judgmental language for exploring behavioral issues. It helps people explore behavior across four primary dimensions:
Dominance
Influence
Steadiness
Conscientiousness
DiSC Classic® is a multi-level learning instrument that helps individuals assess to what degree they utilize each dimension of behavior in their particular situation. The instrument then provides feedback in several unique formats.
DiSC Classic®, the result of extensive field research and testing, is newly-scaled to today's diverse workforce. It offers more choices, more reliability and, once again, sets the standard for behavioral-based learning.
One Profile, Many Purposes
The Personal Profile System® lays the foundation for high performance in a wide variety of applications. Use it to help people in your organization:
Discover behavioral strengths.
Value the strengths of others.
Manage effectively.
Foster teamwork.
Develop strategies to meet diverse needs.
Improve communication skills.
Increase sales.
Improve customer relationships.
Reduce conflict and stress.
DiSC Classic® 2.0
DiSC Classic® Facilitation System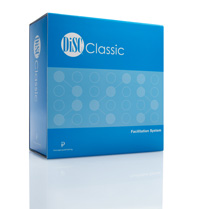 Everything you need to administer the DiSC Classic® is contained in the comprehensive Facilitator System. Designed to provide human resource professionals with practical, research-based expertise, the kit helps you deliver Inscape Publishing's unique Discover & Capitalize approach to workplace learning:
Provide a self-directed scoring and interpreting process that actively engages the learner in the context of personal experience.
Simplify complex behavioral issues to increase understanding of self and others.
Create a non-judgmental language for identifying and dealing with communication and relationship issues.
Discover personal strengths.
Highlight areas for growth.
Foster self-awareness and behavioral insights for long-term performance improvement.
Facilitator's Kit includes:
One Facilitator's Manual
A fully scripted seminar
Transparency masters and reproducible handouts (bound and unbound)
Research and technical background and
Two DiSC Classic® instruments.
DiSC® Classic DVD: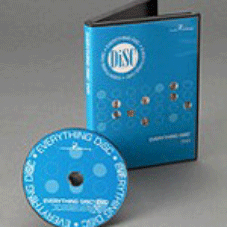 The Insight Modules include facilitation of the major portions of the DVD, or you can easily incorporate it into your existing DiSC training. The DVD is menu-based and offers multiple viewing options for each of its four sections:
Pure Styles.

You'll meet four characters who represent the four DiSC styles. The characters provide an overview of their behavior and describe their goals, fears, preferred environment, and response to conflict.

The Meeting.

You'll see a team in conflict, one-on-one discussions between a manager and each team member, and a successful resolution.

Effective Communication.

You'll see examples of how an HR manager fails to communicate effectively, and then improves by adapting his communication style to the DiSC styles of four individuals.

Natural Styles.

You'll get informal, unscripted responses to eight questions from people of all four DiSC styles, as well as a conversation between two opposite styles and a People-Reading activity.
DiSC Classic® is a registered trademark of Wiley.