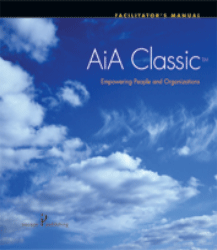 For more than 50 years, individuals have raved about the positive effects that Adventures in Attitude® has had on their lives. In honor of its 50th Anniversary, a new edition, called AiA Classic™ has been released, returning to the original process and power the author, Bob Conklin, brought to the world in 1957. It's a mind-expanding experience that helps motivate people from the inside out. Each of the 74 projects leads groups through exercises that cause participants to focus on important questions, such as:
How do I handle people problems at home and at work?
How do I solve my problems? Make decisions?
What is my work and what are my attitudes toward work? Do they need to be changed?
AiA Classic™ is a strategic, systematic, deliberately constructed learning process that:
Is founded on Principles and a conceptual framework of thought, attitudes, behavior and change;
Utilizes a unique Process of facilitated and guided, interactive, self-directed, and experiential group learning;
Is driven by designed Projects that focus conversations and discussions in ever-increasing complexity, utilizing the modalities of group dynamics and group interaction;
Is facilitated by a Presenter who guides the process using a structured, disciplined model and a sequential set of content materials in a Facilitation role, not as a trainer, teacher, lecturer, speaker, mediator, or discussion leader; and
Is learned, used, and applied by Participants who engage and interact at a self-selected level, in a safe, stimulating environment, to learn the skills defined by employers as most needed, and to learn behaviors known to be those that improve the quality of their lives, intrapersonally and interpersonally.
Program Length:
AiA Classic™ has 30 hours of interactive, experiential learning content. Three options include:
10-Session Format: Ten three-hour units
20-Session Format: Twenty 90-minutes sessions
3-Day Format
Facilitators Guide:
AiA Classic™ Facilitator's Kit includes one Facilitator's Manual, one Participant's Manual, Resource CD, Audio CD's, one set of AiA Classic™ Cards, and one stopwatch. The AiA Classic™ learning system enables people to manage and value self and relationships. It also enhances intrapersonal and interpersonal skills and competencies. The goals of AiA Classic include helping people:
Assess themselves, identify and understand their present state of strengths and limitations.
Develop strategies, techniques, and behaviors that lead to higher-quality and more fulfilling lives, creating outcomes and results they desire.
Recognize, respond, and design personal, work, group, and social accountability.
Have a sense of success in their relationships using leadership, compassion, and actionable attitudes.
Identify, create, and practice the skills demanded in today's social and work environments.
Learning Unit Topics:
Communication
Attitude Awareness
Self-Confidence
Understanding
Personality
Relationships
Group Dynamics
Work
Purpose and Goals
Personal Development
Participant Manual: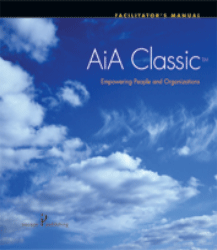 Pricing / Information
AiA Classic® is a registered trademark of Wiley.